LANGEBAAN – Concerned members of the Save Langebaan Lagoon movement recently took some pictures inside the West Coast National Park at Kraal Bay and Shark Bay of grey-black slick that was found along the beach as well as in the veld, spotted from one of the bird hides in the area.
They presented the photos and enquiries on the presence of the slick and the harm it might cause, to Christo van Wyk, a committee member of the Saldanha Bay Water Quality Forum Trust to investigate.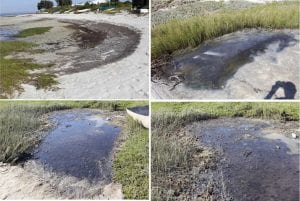 Dr Barry Clark from Anchor Environmental Consultants studied the pictures and said that there was no concern, but asked that an eye be kept on the matter to make sure that it doesn`t become a regular occurrence.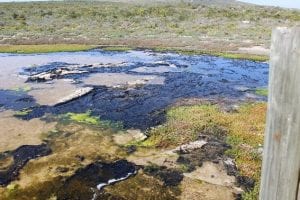 His comment on the photo on the left was: "It looks to me like filamentous marine algae that were washed ashore during the extreme high tide event we had recently. The algae have been trapped on the vegetation and in puddles high on the shore above the normal high tide mark and are busy decomposing. I think it is natural."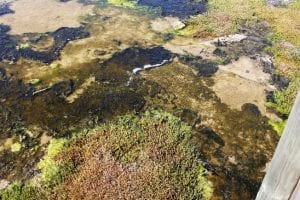 About the other photo, he said: "Same again. Looks like Cladophora sp. Most of the algae are in the water here, so probably washed up after that extreme tide event. Algal blooms like this are sometimes indicative of nutrient enrichment (e.g. in the Berg Estuary and previously in Small Bay when there was a lot of effluent from the Fish Processing Plant discharged into the Bay) but in this case, I suspect it is natural."
The Saldanha Bay Water Quality Forum Trust is having an open day on Friday 25 October at the Athene Conference Centre at Club Mykonos, where Dr Clark will deliver the annual State of the Bay Report. During the day topics like new groundwater information that changed thinking of the past 30 years; sediment movement at Langebaan Beach; and planned monitoring of the aquaculture development in the lagoon will be discussed.
 Featured Image: The photo were taken near the West Coast National Park, left of Shark Bay.