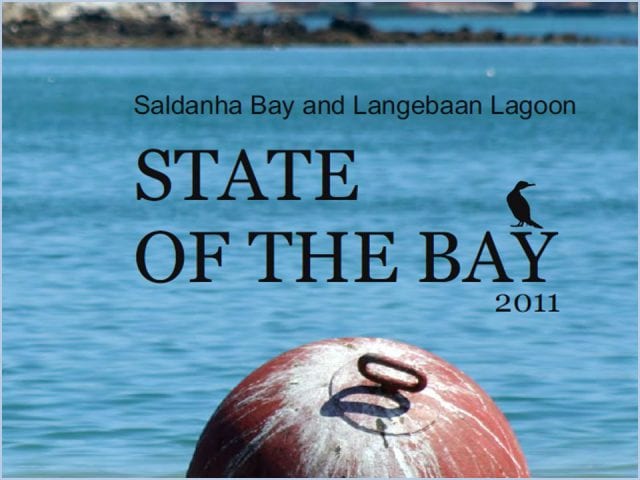 Saldanha Bay is situated on the west coast of South Africa, approximately 100 km north of Cape Town. It is directly linked to the shallow, tidal Langebaan Lagoon. The area is exceptionally beautiful, and ranks among the country's biodiversity 'hot spots'. Langebaan Lagoon, the islands in the bay (Schaapen and Marcus) and just outside (Malgas, Jutten and Vondeling) were declared a Ramsar Site in 1988, and are proclaimed marine protected areas. Langebaan Lagoon and much of the surrounding land falls within the West Coast National Park.
However, there has been considerable development in the area that poses a threat to the health and biodiversity of the bay (herein meaning Saldanha Bay, Langebaan Lagoon and the islands). Saldanha Bay is the only natural harbour of significance on the west coast of South Africa, and was targeted for development as a major port in the early 1970s. The first major development was a causeway built in 1973 that linked Marcus Island to the mainland, providing shelter for visiting ore carriers. The Iron-Ore Terminal was built soon after, essentially dividing Saldanha Bay into two sections: a smaller area bounded by the causeway, the northern shore and the Iron-Ore Terminal ('Small Bay'); and a larger, more exposed adjacent area ('Big Bay'), which is connected to Langebaan Lagoon.
Between 1974 and 1976, approximately 25 million cubic meters of sediment was dredged from the bay to facilitate the entry of large ore carriers. A Multi-Purpose Terminal was added to the jetty in 1980, and the Small Craft Harbour was built in 1984 to cater for the increase in recreational activities and tourism. Dredging is periodically required for expansion and maintenance of these and other port facilities in the bay.
State of the Bay Glossy Report 2011


Download "State of the Bay Report 2011 Glossy" State-of-the-Bay-Report-2011-Glossy.pdf – 7.71 MB