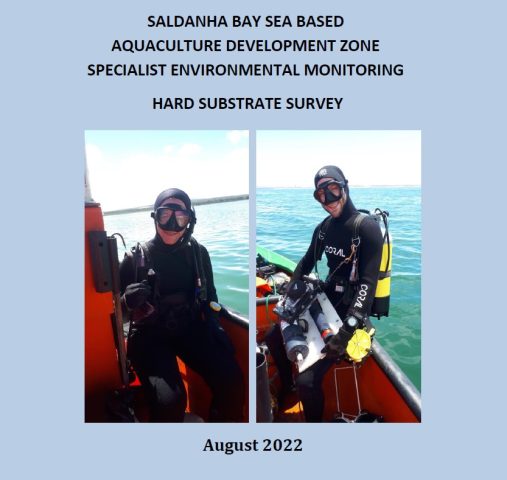 SALDANHA BAY SEA BASED AQUACULTURE DEVELOPMENT ZONE SPECIALIST ENVIRONMENTAL MONITORING – HARD SUBSTRATE SURVEY
EXECUTIVE SUMMARY
Introduction
The Branch Fisheries Management in the then Department of Agriculture, Forestry and Fisheries (now Department of Forestry, Fisheries and the Environment; DFFE), obtained Environmental Authorisation (EA) to establish a sea-based Aquaculture Development Zone in Saldanha Bay on 8 January 2018. In order to ensure appropriate management of the ADZ the Branch Fisheries Management appointed an independent specialist to compile a Sampling Plan for the ADZ and together with other stakeholders have facilitated the completion of numerous monitoring surveys and research projects.
Research done to date, diver observations and difficulties in obtaining grab samples at several stations in Big Bay revealed the presence of patches of exposed reef within Big Bay, specifically in the Finfish precinct of the ADZ. The reef was described as being mostly low profile <1m in height, periodically inundated with sand, however, outcrops of reef >1m in height were also reported. It was suggested that the amount of rocky substratum present in Big Bay was likely significantly more expansive than originally thought and that the full extent of the calcrete platform and the proportion of this habitat type impacted by current and future mariculture activities should be determined.
The Marine Living Resources Fund (MLRF), under the auspices of DFFE, appointed Anchor Research and Monitoring (Pty) Ltd (Anchor) to undertake specialist monitoring in compliance with the environmental Sampling Plan, Environmental Management Program and Environmental Authorisation for the Saldanha Bay ADZ. One of the specific tasks of this appointment was to undertake a study to determine the Big Bay hard substrata species community composition and diversity. This report presents an analysis of available bathymetric data and the findings of diver surveys conducted at three control and three impact sites on the Bay reef platform.
Read or download the full report below.
Saldanha Bay ADZ Reef survey 1974_8 - Final

Download "Saldanha Bay ADZ Reef survey 1974_8 - Final" Saldanha-Bay-ADZ-Reef-survey-1974_8-Final.pdf – 1.51 MB