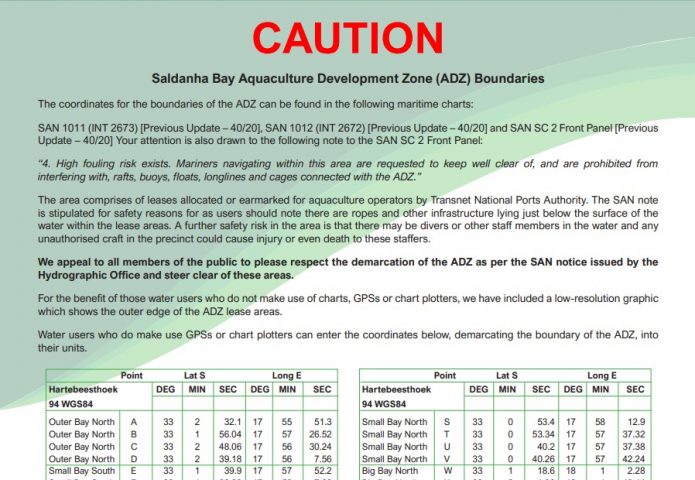 In light of the fact that the SAN charts are outdated and the Dec Jan holiday makers will visiting in Saldanha and Langebaan the DEFF have developed the attached caution notice we would appreciate it if you could
assist in distributing the attached on your respective websites and can be distributed to your stakeholders so that we can reach a wider audience.
We will be emailing the attached to the CF members we have a flyer version and the A4 poster version (attached) will also be printed and posted at various locations next week with the same information.
Your assistance is appreciated in advance.
Feel free to send this email on to others who may be able to assist to distribute the caution notice. This does not replace the Mariners notice which was issued by the Hydrographic office recently but merely supports the
awareness of the ADZ in the interest of public safety.
Kindest regards
Michelle Pretorius (Pr. Sci. Nat.)
Environmental Officer: Shellfish Production
Directorate: Sustainable Aquaculture Management
Department of Environment, Forestry and Fisheries
Tel: +27 (21) 430 7034
Fax: +27 (21) 434 2899
Cell: 082 647 2263
Web: http://www.dea.gov.za
E-mail:

ADZ A4 Final 2

Download "Saldanha Bay ADZ caution poster" ADZ-A4-Final-2.pdf – 824.64 KB